Your wedding invitations are going to give your guests the first glimpse into your big day. Therefore, you are likely wanting to create a good first impression and one that accurately dictates what kind of experience they are going to have. Because of this, you will want to focus on crafting the perfect wedding invitations that can really drive home the overall theme of your entire wedding. In this article, we will be discussing some of the key tips for making the best wedding invitations.
Tips For Making The Best Wedding Invitation:
1. Clearly Define The Style Of Your Wedding.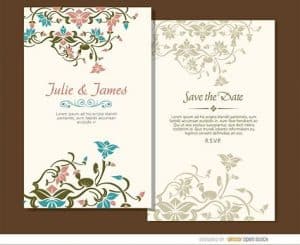 When it comes to crafting the perfect wedding invitation, you will want to be sure that you already fully understand the overall style and theme of your wedding before sending them out. The styling of your invitations will provide information to your guests of how formal your wedding is going to be and what they should expect when they attend it. Therefore, it is important to make sure that the style of your invitations match the overall style of your wedding, so you can accurately portray what kind of experience your guests will have. Along with this, you want your invitations utilize the right colors to not only dictate the overall formality and style of your wedding, but also the color theme. You want your colors to flow with the overall colors that you will be using to decorate your wedding.
2. Keep It Simple.
Another big thing that you should remember when it comes to crafting your wedding invitations is to keep it simple. You don't want to overcrowd your card and have too many things going on with it. This makes it very messy and unattractive to look at. You want your invite to be classy and yet very easy to read and understand. You don't want a card that is very pretty to go straight into the trash because its a mess. Your card is purely there to provide information to your guests. Therefore, you want to convey the information in a legible format and you want to avoid distracting the reader from the actual points you are addressing in it.
3. Size.
Another big thing that you want to consider is the overall size of your invitation. It's important to keep in mind that the size can dictate the shipping costs associated with your cards. For this reason, you want to carefully select the size of your card and figure out what fits in your budget. You can even choose different shapes to try to allow your wedding invitation to look unique and stand out from the traditional and standard rectangular shape.
4. Finish Them Early.
Your invitations will be one of the first things you need to get done so they can be mailed early. Keep in mind that you are going to want to finish your cards early in the process. The entire process from start to finish can take some time. Therefore, you should be creating your cards and printing them once you have all of the prerequisites figured out. That will allow you to effectively get them out to your guests with a good amount of time for them to really plan for it. Keep in mind, if you are going to be hosting a destination wedding, you might want to send them out with even more of an advance so that they would be able to plan their trip accordingly. The standard timeline to send out your cards for a standard wedding would be around 8 to 10 weeks prior to the wedding. Whereas, if you are having a destination wedding, you should aim to get them sent out at least 14 weeks prior to the wedding to allow for proper trip planning.
There is a lot that you will want to consider when you are looking to craft the perfect wedding invitations. The tips above should allow you to effectively come up with the best invitations representative of your future wedding.