Having the perfect cake for your wedding reception is not only a necessity,  but a great cake it will make your wedding an incredibly memorable event. A beautifully decorated cake is a popular wedding tradition for brides and grooms. The cake should look beautiful and taste delicious so that you and all your loved ones can enjoy the flavorful taste of the cake during such an important and special moment in your lives. Not sure exactly how to choose the right wedding cake for your reception? If not, you should follow these helpful tips.
 – Attend a Cake Tasting to Try Out Flavor Combinations
You are not going to know which flavor of cake to get unless you are willing to try out a few different combinations. Even if you are a fan of basic flavors, such as vanilla or chocolate, there could be so many other tasty flavors that are perfect for your wedding reception that you do not even know about yet because you haven't tasted them yet and given them a try. There are a lot of unique flavors that any baker worth his salt should be able to offer to you; my favorites include chocolate raspberry truffle, chocolate chip, carrot with walnut, banana foster, and even pink champagne. There are literally dozens of different choices fro you to make… from the conservative to the daring and even to the absolute outrageous. Really, the only barrier is your imagination and creativity.  If you would love to taste the different cakes and icing combinations that are more unique to see what is perfect for you and your partner on the wedding day, you really should schedule a cake tasting to try out a bunch of samples. After the cake testing, you and your partner may be much closer to deciding on the cake for the wedding.
 – Browse Through Styles and Decide on One That You Prefer
Even after selecting the perfect flavor combination for the wedding cake, you will need to decide on the style of the cake. There are tons of great styles to choose from, so the style you select will depend on what you and your partner truly prefer and what the theme of your wedding will be. Naked cakes are becoming increasingly popular. Naked cakes typically have much less icing on them, leaving bits of non-iced cake showing on purpose.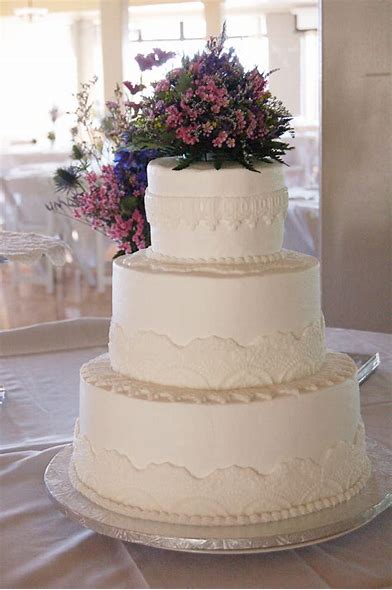 If Tradition is what you like the most and are trying to emulate, many people like the traditional white wedding cakes where each layer of the cake is covered in white icing or white fondant with white embellishments, such as white doves, butterflies, or assorted flowers that are made from edible fondant. If you want something that looks breathtakingly beautiful and has a lot of color to it, you may even want to think about ordering a painted cake. The baker takes the time to carefully cover the cake in fondant and then uses assorted edible paints to give the cake a beautifully painted appearance. Some people like their wedding cakes to look like painted glass.
– Picking the Right Size For Your Cake
Make sure to choose the right size for your wedding cake. You do not want something that is too small, but you also do not want to get something that is too large because then you could end up with tons of leftover cake to last for months at a time. Which won't really last for months, unless you freeze it. And who wants or even likes frozen wedding cake. After a couple of thaws, it will only go into the trash bin. And that would be heartbreaking to have to toss your leftover wedding cake. The baker should be able to tell you the size of the cake you are going to need based on the number of people you have invited to the wedding reception.
There are important decisions that must be made when selecting a wedding cake. Try out different flavor combinations with your partner, choose a specific style for the wedding cake, and then decide on the perfect size to ensure that there is going to be enough cake for everyone to enjoy it during your wedding reception.