Shopping for a wedding gown can be very stressful, especially if you're plus sized. Many retailers don't take the needs of plus size brides into accounts. If you're planning on shopping for plus sized wedding dresses, you'll want to keep this advice in mind.
Always Call Ahead
Bridal shops typically have a limited number of sample gowns available for brides to try on. It's important to call shops ahead of time so that you can make sure they have samples available in your size. If a shop only has smaller sizes in stock, visiting them will be a waste of your valuable time. Call all of the shops you're considering and find out more about the dresses they have in stock.
Find A Shop That Specializes In Plus Size Gowns
One of the biggest benefits of visiting a bridal shop is that you get to work with a specialist. The staffers at the bridal shop should be able to recommend gowns to you so that you can find something that flatters your body.
You should make a point of visiting a shop that regularly dresses plus-sized brides. If you shop at a place like this, you'll be able to benefit from the expertise of the staffers.
A lot of women are shocked when they see the size of their wedding dress. Because wedding dresses follow couture sizing, most brides buy a dress in a larger size than they normally well. This is compounded by the fact wedding dresses are usually altered to fit the bride perfectly. Since it's easier to take in a dress than take it out, many brides have to size up.
Don't allow yourself to be upset by the number on the label of your dress. Instead, focus on finding a dress that makes you look and feel amazing.
Try On A Variety Of Dresses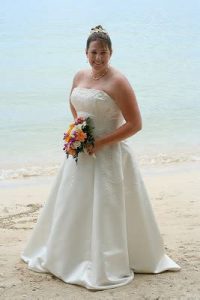 A lot of brides have a clear picture of what they want their wedding dress to look like. For example, you might want a strapless dress with a sweetheart neckline.
While you should definitely try on dresses that are in line with your taste, you should also try on other styles. It's one thing to see a dress in a picture or on a hanger. It's another thing to see a dress on your own body. You might be surprised by what flatters you.
Choose Something You're Comfortable In
Your wedding is a huge celebration. You shouldn't feel uncomfortable in your gown. You should pick a gown that you'll be able to eat, dance, and have fun in.
Don't buy a gown that's itchy or too small simply because you think it will look great in pictures. Make sure that you pick out a gown that you'll be able to move around in.
These suggestions should really come in handy if you're shopping for plus sized wedding dresses. Plus size brides deserve to feel beautiful on their special day. Stick to this advice so that you'll be able to find the perfect gown for you.